District Wide Broadcast Message
Somos una escuela de doble inmersión de TK-8 ° grado con un enfoque en ciencias y lenguaje. Somos una escuela de doble inmersión de TK-8 ° grado con un enfoque en ciencias y lenguaje.
Dr. Barragán's Weekly Message/ Mensaje Semanal del Dr. Barragán
October 7-11, 2019
Dear Families,
October is well under way and we have many things going on during the month.
From October 7-11 is anti bullying week. We will be doing several activities as a way of promoting positive student behavior and a strong anti-bullying message to our students and community. We will continue to work to ensure that NSLA is a bully-free school, and one in which our students feel safe and comfortable to attend and learn within. Our goal will be to continue to foster an environment of mutual respect for all people; regardless of their race, nationality, culture, religion, etc.
The holidays are fast approaching and we have a lot of work to do until then. Please make sure that students are at school every day and on time!
Queridas familias,
Octubre está muy avanzado y tenemos muchas cosas durante el mes.
Del 7 al 11 de octubre es la semana anti bullying. Haremos varias actividades como una forma de promover un comportamiento positivo de los estudiantes y un fuerte mensaje anti-bullying para nuestros estudiantes y la comunidad. Continuaremos trabajando para asegurarnos de que NSLA sea una escuela libre de intimidación, y una en la que nuestros estudiantes se sientan seguros y cómodos para asistir y aprender dentro. Nuestro objetivo será continuar fomentando un ambiente de respeto mutuo para todas las personas; independientemente de su raza, nacionalidad, cultura, religión, etc.
Las vacaciones se acercan rápidamente y tenemos mucho trabajo por hacer hasta entonces. ¡Por favor asegúrese de que los estudiantes estén en la escuela todos los días ya tiempo!
Have a great week!
Dr. Barragán
Teacher Feature
Teacher Feature

title
Señorita Baez
Señorita Baez

title
Name: Carol Baez [Señorita Baez]
Grade Level or area of work (CDO, Cafeteria, Office, Admin., Etc.): 3rd
Years Teaching: First year teaching !
Years Teaching at NSLA: 1
College/University attended: UC Irvine
Brief Bio:. Hobbies, favorite food, etc.): I love to go camping every summer, painting on my free time, and an avid movie watcher.
Why you decided to work in education: I wanted to work towards equity and reducing the achievement gap.
Favorite Educational Quote: Success is not final, Failure is not fatal. It is the courage to continue that counts- Winston Churchill [Not specifically an educational quote, but my favorite quote]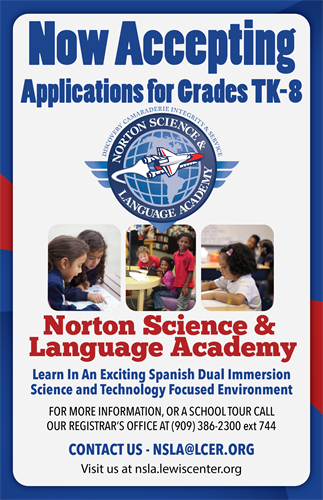 Currently Accepting Applications!
We are currently accepting applications for our Spanish Dual Language and Science focused instructional program. For more information, contact our registrar at (909) 386-2300 (ext. 744).
.

NSLA Highlights
NSLA Highlights

title