District Wide Broadcast Message
Principal's Weekly Message
Principal's Weekly Message

title
Week of August 12-16, 2019
Week 2 is upon us! I hope that everyone had a relaxing weekend and are ready for another great week at school.
I want to remind you that middle school students start school at 7:46 a.m. Only middle school students and siblings may be dropped off at 7:15 a.m.
Students in grades TK-5 may be dropped off at 7:45 a.m. unless they are enrolled in the before school morning care program that opens at 7:00 a.m.
I look forward to a great week!
Semana del 12 al 16 de agosto de 2019

¡La semana 2 está sobre nosotros! Espero que todos hayan tenido un fin de semana relajante y estén listos para otra gran semana en la escuela.

Quiero recordarles que los estudiantes de secundaria comienzan la escuela a las 7:46 a.m. Solo los estudiantes y hermanos de secundaria pueden dejar a las 7:15 a.m.

Los estudiantes en los grados TK-5 pueden dejarlos a las 7:45 a.m. a menos que formen parte del programa de cuidado matutino antes de la escuela que abre a las 7:00 a.m.

Espero una gran semana!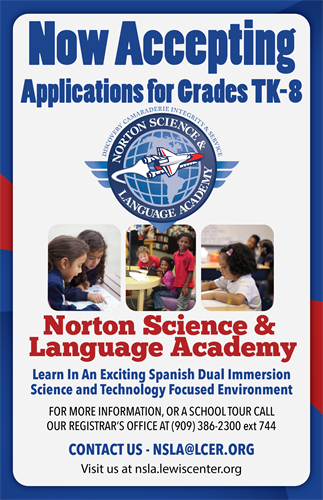 Currently Accepting Applications!
We are currently accepting applications for our Spanish Dual Language and Science focused instructional program. For more information, contact our registrar at (909) 386-2300 (ext. 744).
.

Rockets Compete at Destination Imagination
Rockets Compete at Destination Imagination

title
Our Awesome Rockets competed at the Destination Imagination regional competition in Arcadia, California on February 23, 2019! Congratulations to team managers Mrs. Deininger, Arwa Hunsucker and our awesome Norton Rocket students who represented us well! Up next is the regional competition in Clovis, California.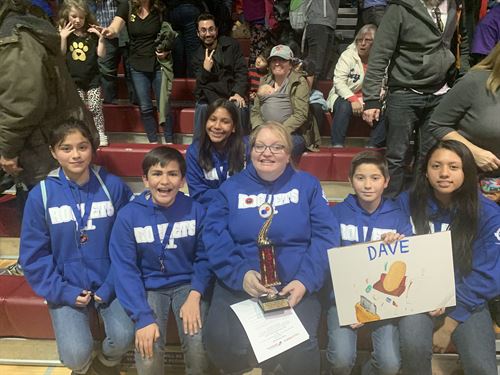 NSLA Highlights
NSLA Highlights

title